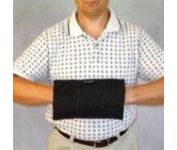 Stiff hands and wrists?  Try the Aromatic Heat Therapy Muff for a chance to be relieved of all the aches and hand stiffness that bothers you.
This home medical equipment is easy to use.  Just place it in the microwave to get that penetrating heat that will soother your aches away.  What heals you, aside from the heat, is the muff's fillings which include aromatic herbs and spices and organic long grain rice.
Once heated, the filling can provide gentle accupressure and aromatherapy to your hands or wrist.  You can take advantage of the muff's soothing effect for 30 to 45 minutes.