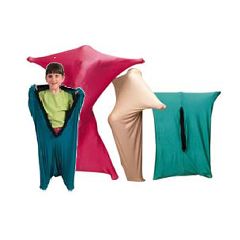 If you think this is child's play then you are absolutely right. However, this Body Sox Therapeutic Sacks are not just for playing but they are primarily therapeutic sacks that encourages creative movement and spacial awareness among kids and adults alike.
This home medical equipment is a 1993 winner of the Early Childhood Directors' Choice Award and it has continuously proven its efficacy in teaching both kids and adults about the importance of gross motor control.
Kids may think that once inside, they are just playing and creating shapes using their body but the sack encourages kinesthetic exploration and awareness of a 3-dimensional space.
The sacks come in different colors, with a velcro opening and has four sizes from 40 to 73 inches which will fit kids and adults of varying ages and height.