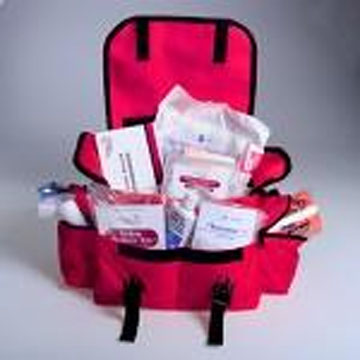 Every police department, fire department or medical emergency service should have this home medical equipment if they are serious in fulfilling their responsibility of saving lives. I am talking about Medical Supply Depot's Fully Loaded Trauma Bag. The Trauma Bag is an easy-to-carry bag that contains all the basic necessary equipment and products to save a person's life. The bag is made of very durable material so there's no worry about roughing it up or carrying it anywhere at all.
This bag has snap locks that makes it easy for first aiders to have access to the products they need when there is an emergency. The padded compartments, side pouhes and pockets provide more room for very essential life saving tools and products.
Each Trauma Bag carries with it the basic airway management gadgets like the airway set (which is color coded for easy identification) and the CPR keyring. It also has various bandages and dressings as well as EMS equipment and supplies like EMT sheers, pen lights, surgical tape, stethoscope, blood pressure cuff, emergency blanker, ice packs, hydrogen peroxide and gloves.