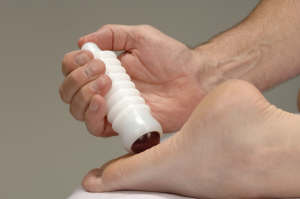 The Omni Foot and Body Massager will make sure you need not rely on anyone else to massage those pressure points in your feet and legs. But wouldn't it be twice nicer and relaxing if somebody else can do it for you?
This home medical equipment is an ideal tool for foot massage and reflexology. The nerve endings in your feet can be painful due to the accumulation of acide and calcium in the form of crystalline deposits especially after a day's work or when your body is out of balance. It is important to massage these points to breal up the crystalline deposits and rejuvenate your body and bring back balance in the system.
Massaging the body's pressure points through the foot massager can promote the healing of certain organs connected to the points. You can even use it in other parts of the body like your back. Get rid of tension and your promote better body circulation.
The Foot Fantasy consists of the Acupressure Point, the Directional Massage Ball and the Massage Power Ribs, each of which has its own functions in making sure you get that total foot and body massage at very little cost.