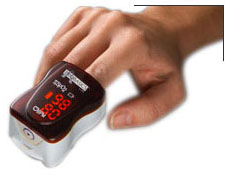 Get your pulse rate even in the comforts of your home with the Probasics Digit-Ox Finger Pulse Oximeter.  This home medical equipment is not that expensive at $379.95 especially if it means ensuring your health and safety.
This pulse oxymeter is so affordable it is the best choice for most homes.  However, even clinics and hospitals take advantage of the convenience it offers when it comes to medical care.
One thing that attracts most health workers and home users to this equipment is its  size.  It is a very handy home medical equipment that can fit even in your pocket.
What the manufacturer did is to combine both the sensor and the monitor to come up with a unit that efficiently measures the pulse rate, strength and the SpO2  of patients whatever age bracket they may belong to.
It is so easy to use and can be activated with one push of a button.  It also has a LED display that is large enough for a more accurate reading.  The auto power shutdown makes sure the unit is turned off when it is not being used.  But in case you run out of batteries, there is an indicator that will inform you when the battery is below the 30-minute range.