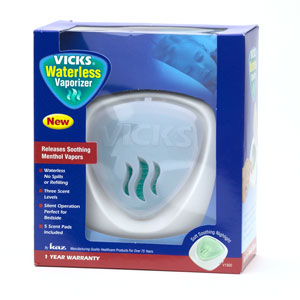 The Vicks Vaporizer is a handy home medical equipment that every household should have especially if there are kids. The Vicks waterless vaporizer releases menthol vapors that easily soothes.
The best thing about this home medical equipment is that it is waterless so you need not worry about spills or any mess at all. It boasts of three scent levels and is a perfect gadget for your bedroom as it operates silently.
A purchase of the Vaporizer already includes several scent pads which you can use inside the Vaporizer. Once the menthol vapors in the pads are released then you will get soothing relief. Each pad lasts up to eight hours so it is really cost effective.
This is perfect during night time even beside your bed since it is equipped with a night lamp that emits a soft light. It has three settings that allows you to control the amount of water vapor being released in the air. The scent pads are heat activated so expect the vapour to be released in the air a few seconds after activation.
If you always have stuffy nose and have trouble breathing and sleeping because of that then end your suffering and get a Vicks Waterless Vaporizer now.