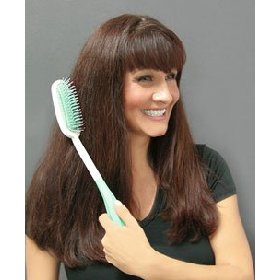 Why detest grooming when you can do it easily and efficiently?  People who have arthritis and other medical conditions that prevent them from raising their hands have a hard time combing their hair independently.  Thus, they either look unkempt or require a nursing aide to perform even the basic froomign rituals like brushing.
With Wellhaven's long length brush Arthritis mobility dressing aid, you can say hello to independence and improved grooming and appearance.  This home medical equipment allows you to comb even the back of your hair even without asking help from anybody.
The long handled brush is 14-inches long and has a comfortable grip so it is easy to use even if you have flexibility problems.  Any patient would feel cheerful knowing that he or she looks better.