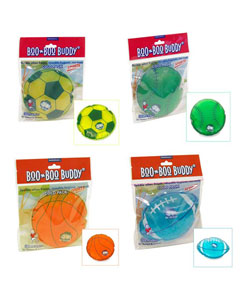 If you are having a hard time putting on a cold pack on your child's forehead whenever fever sets in then you need these Boo Boo Buddy Ice Cold Pack Soccer set to the rescue.
The attractive design of this home medical equipment will be a hit among children who would not be  able to say no to putting any of these cold packs on his forehead or any body part that requires a cold pack. It does not only have entertainign designs but it heals fast while cools problem areas.
This cool pack can easily numb away minor pains from bumps and bruises.  It also provides natural and safe pain relief to your child.  Even adults can use this too if they want to be entertained to forget away the pain.