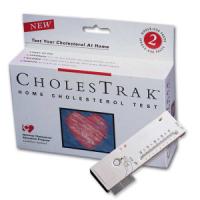 The CholesTrak Home Cholesterol Test Kit By ACCUTECH LLC is a helpful gadget to have at home especially for those who want to monitor their cholesterol level regularly.
With this home medical gadget, you can easily get your cholesterol level on a daily basis. The home test kit is so easy to use and you can see the results 12 minutes after you take the test even without fasting.
It is a guaranteed accurate cholesterol tester comparable to those used by hospitals and has been approved by the FDA. The home cholesterol kit includes everything you need to accurately get two cholesterol readings including two record charts, two test devices, two gauze pads, two lanets and two bandages. A Q&A brochure is also included in the kit to help you out at home.