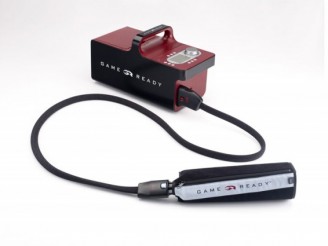 Accidents do happen even if you are just working out or practising in the gym or in the field.  When this happens, you need Cool Systme's Game Ready injury treatment system.  This is the same home medical equipment being used by the US Navy Seals, the US Olympics Training Center and the San Francisco Ballet.
While this is ideal for households it is also recommended for schools, gyms and clinics.  Serious athletes, professional or amateur, should have one in their lockers or their rooms.  It follows the principle of Rest, Ice, Compression and Elevation in the treatment of injuries and muscle rehabilitation.
The convenient system is designed to be used for treatment of musculoskeletal injuries and post-operative rehabilitation.
This home medical equipment is portable and easy to use that anyone can operate it. An opening in the equipment provides easy handling of water and ice for immediate treatment.  It is ideal both for post-operative rehabilitation and in the treatment of musculoskeletal injuries.