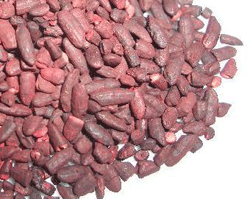 Red yeast rice is a natural product native to China that's been used in Asian traditional medical since approximately 800 AD. Red yeast rice extract is carefully produced to avoid the presence of citrinin, a sometimes toxic by-product of the fermentation process. This product is further enhanced with the addition of CoQ10 to support healthy cardiovascular and immune system function, Milk Thistle Extract to support healthy liver function, and Alpha Lipoic Acid to provide antioxidant support.
Red yeast rice also contains several compounds collectively known as Monacolins, substances known to inhibit cholesterol formation.
Red yeast rice extract has a number of heart-healthy benefits: It seems to help reduce total cholesterol levels, lower levels of LDL termed as "bad" cholesterol, increase levels of HDL termed as "good" cholesterol, and lower levels of unhealthy fats called triglycerides. It seems to accomplish this by restricting the liver's production of cholesterol.
Red yeast rice extract helps to prevent heart disease and some of its complications.
Red yeast rice helps in lowering cholesterol and triglycerides and has been used as a traditional medicine to promote circulation and heart health, but also used as a food flavoring agent.
Red yeast rice helps to prevent atherosclerosis – a condition that can lead to the "silent killer"-coronary heart disease
Red Yeast Rice helps to improve circulation by its cholesterol regulating action.
Ask your doctor before adding red yeast rice to your diet.