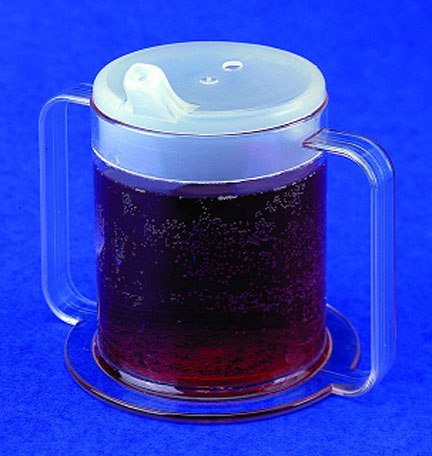 Some illnesses can make your hands tremble even when just holding on to a glass.  Those who have had strokes, mild or serious, are susceptible to getting tremors all the time making it hard for them to hold their owns cups or glasses for drinking water or other liquids.
If you suffer from tremors or have poor grip and control of your hands then this home medical equipment will help you become more independent without creating a mess on your floors and on your clothes.  Experience independence even as you drink your favorite thirst quencher with the Container Independence 2-Handle Plastic Mug by Providence Spillproof.
This mug may look fragile with its crystal appearance but it is really very strong and durable.  With the two handles, you can hold the mug with your two hands making your grip more steady and your mug almost spill-proof.  You can also choose from the spout-lid or the the anti-splash lid.  Or you can just use a straw as both lids are compatible with a straw.
You can choose to be dependent on just about anyone even with the simplest task.  You can also choose to make a constant mess every time you need to use your drinking glass.  But you also have the choice of this wonderful mug which can make drinking fun and easier.