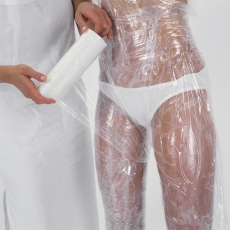 When using a body wrap to lose weight and firm skin there are other benefits as well. A body wrap produces therapeutic and cosmetic benefits by cleansing the body of toxins and reducing inches.
As well when using a body wrap to lose weight one gets the added benefit of improving the tone and firmness and the look and texture of their skin. This helps who have loose skin from weight loss or pregnancy. Also those who experience joint pain and inflammation will benefit from the therapeutic effects of body wraps.
A simple body wrap to lose weight can be a mixture of clay and some natural sea salt. You can add more complex ingredients such as herbs and up to 2 tablespoons of an essential oil like lavender, sage, lemon, sandlewood, lemongrass, rosemary, grapefruit or olive oil. Herbs to use include Alfalfa leaf powder, ground basil, chamomile flower powder, rose petal powder or rosehip powder.
Body wrap to lose weight recipe:
1 cup bentonite or green clay
1/4 cup sea salt
2 tbsp. olive oil
2 cups water
Boil water and add sea salt until it is dissolved. Add remaining ingredients and stir. Adjust the water if necessary to form a wet paste.
Rub the mixture over your entire body and cover yourself with thin towels or a clean white sheet. Using proper wrapping sheets helps to squeeze the tissues together for greater results.
Lay in the tub for a minimum of 45 min. to one hour.
Take a warm shower before applying the wrap to open the pores.
Drink lots of water both before and after your wrap to help flush out toxins.
You can cover yourself with an inexpensive foil thermal blanket to keep warm.
Avoid caffeine, sugar, fried fatty foods, soda drinks and alcohol for the next 48 hours.