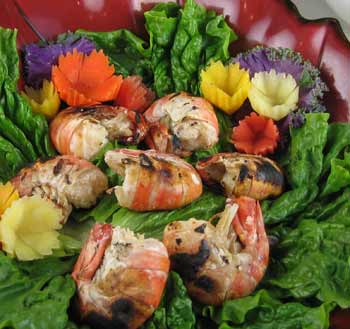 The Scarsdale diet menu does not indicate any portion. You can eat as much as you like until you are satisfied, not stuffed.
Breakfast in Scarsdale diet menu is the same everyday:
The Scarsdale diet menu indicates that 1/2 grapefruit is the best fruit for breakfast, however it can be substituted for other fruits in season.
One slice of protein bread, toasted, no spread added.
Coffee or tea (no sugar, cream or milk, no honey).
Monday
Lunch:
Assorted cold cuts
Tomatoes – sliced, broiled, or stewed
Coffee/Tea/Diet Soda/Water
Dinner:
Fish or shellfish, any kind Combination salad, any greens and vegetables as you wish
One slice protein bread toasted
Grapefruit – if not available, use fruits in season
Coffee/Tea/Diet Soda/Water
Tuesday
Lunch:
Plenty of broiled, lean hamburger
Tomatoes, lettuce, celery, olives (limit 4), cucumbers and/or Brussels Sprouts
Coffee/Tea/Diet Soda/Water
Dinner:
Fruit salad, any combination of fruits
Coffee/Tea/Diet Soda/Water
Wednesday
Lunch:
Tuna fish or salmon salad (oil drained off) with lemon and vinegar dressing
Grapefruit, or melon, or fruit in season
Coffee/Tea/Diet Soda/Water
Dinner:
Sliced roast lamb*, all visible fat removed
Salad of lettuce, tomatoes, cucumbers, celery
Coffee/Tea/Diet Soda/Water
* Can be substituted with fish, seafood, chicken or turkey
Thursday
Lunch:
Two eggs, any style (no fat used in cooking)
Low-fat cottage cheese
Zucchini, or string beans, or sliced/stewed tomatoes
One slice of protein bread, toasted
Coffee/Tea/Diet Soda/Water
Dinner:
Roast, broiled or barbequed chicken (skin and visible fat removed before eating)
Plenty of spinach, green peppers, string beans
Coffee/Tea/Diet Soda/Water
Friday
Lunch:
Assorted cheese slices (preferably low fat)
Spinach, all you want
One slice of protein bread, toasted
Coffee/Tea/Diet Soda/Water
Dinner:
Fish or shellfish
Combination salad (any fresh vegetables desired, raw or cooked)
One slice of protein bread, toasted
Coffee/Tea/Diet Soda/Water
Saturday
Lunch:
Fruit salad, any combination of fruits
Coffee/Tea/Diet Soda/Water
Dinner:
Roast turkey or chicken
Salad of tomatoes and lettuce
Grapefruit or fruit in season
Coffee/Tea/Diet Soda/Water
Sunday
Lunch:
Cold or hot turkey or chicken
Tomatoes, carrots, cooked cabbage, broccoli or cauliflower
Grapefruit or fruit in season
Coffee/Tea/Diet Soda/Water