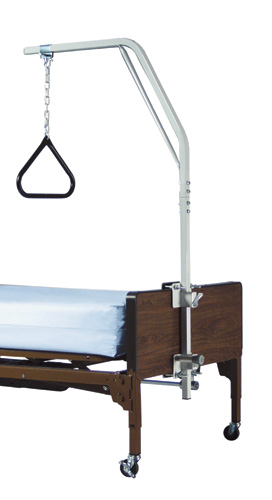 The Lumex Versa Helper Chrome-Plated Trapeze  is a big help to patients whether they are staying in a hospital or in their homes.  This home medical equipment will aid patients especially those who have just have had surgery, move by themselves without much help from a healthcare personnel.
Patients are usually relegated to one position only when the are attached to a dextrose and they are still fresh from surgery.  The trapeze will help them change positions easily and without much pressure at all.
The height of the trapeze is adjustable between  43 to 52 inches depending on which height is most comfortable to the patient.  The clamps and the hand-bar are VersaGuard-coated so no worries about slipping. It an support patients with weights up to 250 pounds.