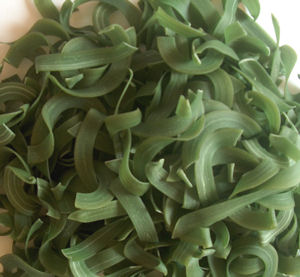 Spirulina is a green micro alga. They are microscopic plants which grow in fresh water. They are green due to chlorophyll.
It is sold in the form of powder and can be found also in veggie capsules.
Spirulina is an amazing food. And it is a food, not a medicine. It contains a lot of protein, three times more protein by weight than beef. This protein is more digestible than beef, so you take in more of it into your system and Spirulina contains complete protein, all eight essential amino acids.
As well, it contains vitamin B12, and being a plant it's a vegetarian source.
It contains the second highest amount of the essential fatty acid, GLA, available. The most GLA available is found in human breast milk. GLA enhances the immune system.
Spirulina also contains chlorophyll and beta-carotene, both powerful antioxidants. They help support your immune system and may have anti-cancer effects. Spirulina is also an excellent source of calcium. And of course, they are full of photochemicals.
You may want to give Spirulina a try. You may find that it will improve your health and support your efforts at healthy living. However, before adding something like Spirulina to your diet, talk to your doctor first.