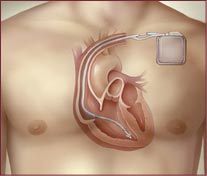 An implantable cardioverter defibrillator is a device designed for individuals with certain forms of heart disease or defects that put them at recurring risk of sustained ventricular fibrillation, or cardiac arrest. They are a sort of pacemaker. The device is implanted either within the chest itself, or more recently, within the blood vessels which eliminates the need for open chest surgery.
An implantable defibrillator, or ICD, uses leads positioned near the heart to deliver electronic pulses when it is detected that a cardiac rhythm is out of sync. The device can also, if necessary, stimulate a consistent pace or beat if the heart is unable to do so on its own.
Internal defibrillators are only used in cases where a patient has shown consistent, recurring risk of cardiac arrest or attack do to fibrillation. As with any invasive surgery, an ICD is not to be taken lightly, but they have been extraordinarily useful in preventing sudden deaths among patients who elect to have them implanted.
If you are wondering if you are a candidate for an ICD, check with your regular doctor or cardiologist. Only they can determine whether you are in need of an internal defibrillator. However, if you have been found to be at recurring risk for rhythm interruptions, an ICD may be a treatment option for you.
Consult your doctor for more information about whether an ICD is right for you.