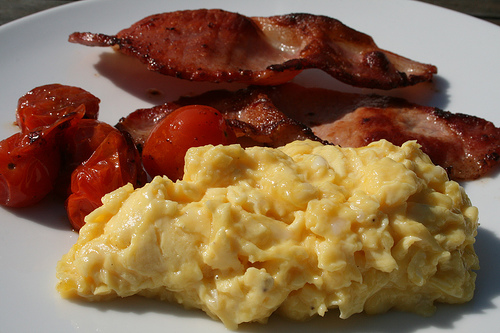 The Atkins Diet Plan is based on low carb Atkins diet principles that help people re-energize their life by re-balancing their nutrition, losing weight and keeping it off.
The Atkins Diet Plan activates body metabolism, so that you burn fat for energy and reduce the risk factors associated with certain major health problems, including chronic fatigue, diabetes and high blood pressure.
The following is a two day example of the Atkins diet menu:
Atkins Diet Menu – Day 1
Breakfast
3 Eggs, Scrambled with cream
4-6 Strips Bacon
Coffee or tea with Splenda and cream
Lunch
Chicken Salad
(6 oz. Grilled Chicken
1T Romano Cheese
2c dark salad greens
2T Ranch Dressing
1 chopped hard boiled egg)
Dinner
Fish Fry (fish fillets dipped in egg and coated in whey protein and fried in vegetable oil)
1 cup salad greens
¼ medium tomato
1 thin slice red onion
1 cup Broccoli rabe with butter
Atkins Diet Menu – Day 2
Breakfast
Double serving of Atkins Hot Cereal
1T cream
4 Sausage Patties
Decaf Cinnamon coffee (add ¼ t cinnamon and 1tsp vanilla extract to coffee pot) with Splenda and cream
Lunch
Luncheon pinwheels
(Wrap slices of turkey, ham, chicken, salami, pastrami, or beef etc. around sticks of hard or cream cheese and cut into bite-size pieces)
2 Cups salad greens
2T Ranch dressing
Dinner
Steak (grilled with garlic butter, 2 thin slices of onion, and ½ cup mushrooms)
1 cup salad greens with:
Bacon bits
1T Romano cheese
1T Dressing of Choice
1 cup Asparagus
Ask your doctor before beginning any diet.