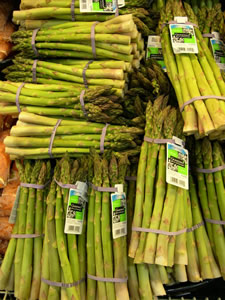 The name, low fat diet recipes, may not sound too appetizing, but they really can be.
When one is dieting and watching their fat intake, as well as calories, the food may become boring. So using exciting low fat diet recipes can be one way to help keep you eating the right foods.
Reducing bad fats in ones eating habits really isn't a bad idea even if you don't need to lose any weight.
These appetizers are an example of low fat diet recipes that are just yummy, good for you and low calorie.
Asparagus and Avocado Wraps
24 spears asparagus
1 ripe avocado, pitted and peeled
1 tablespoon lime juice
1 clove garlic, minced
1 1/2 cups cooked cold long-grain white rice
3 tablespoons plain nonfat yogurt
3 whole wheat tortillas, 10 inches in diameter
1/3 cup fresh cilantro leaves
2 tablespoons chopped red onion
In medium saucepan over high heat, bring 2 inches water to a boil. Steam the asparagus in a steamer basket until just tender, approximately 5 minutes. Immediately rinse the asparagus in cold water. Drain thoroughly.
In a small bowl, mash the avocado, lime juice, and garlic into a coarse puree.
In another small bowl, stir together the rice and yogurt.
Heat a large dry frying pan over medium heat. One at a time, heat the tortillas in the hot pan until softened, approximately 20 seconds per side.
Lay the tortillas flat. Spread the avocado mixture equally among the tortillas. Top each with an equal amount of the rice mixture, asparagus, cilantro, and onion.
Roll to close the tortillas with ends folded in. Cover with plastic wrap and refrigerate for up to 1 hour, or serve immediately. Return to room temperature before serving.
To serve, cut each wrap in half crosswise.
Makes 6 servings.
Recipe originally from The Mayo Clinic, Williams-Sonoma Cookbook, by John Phillip Carroll, published by TimeLife Books.