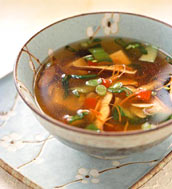 Atkins diet recipes are about taking charge of your life.
Using Atkins diet recipes and the plan you can:
* Savor the flavor of nutritious food and skip the junk food
* Ease into carb control
* Renew your life with balanced living
The following is a delicious treat from Atkins diet recipes.
Most Asian soups are light, filling and take very little time to prepare. If you enjoy a little heat, add bit of Asian chili oil or paste before serving.
• 6 cups reduced-sodium chicken broth
• 4 tablespoons lite (reduced-sodium) soy sauce
• 2 cups bok choy, sliced (Chinese cabbage; use half leaves and half stems)
• 4 ounces exotic mixed sliced mushrooms (about 2 cups)
• 1 tablespoon fresh ginger, sliced or grated
• 1 garlic clove, very thinly sliced
• 1 Thai or Serrano chili, seeded and minced
• 1 cup diced tomatoes
• 3 green onions, sliced (about 1/2 cup)
• 6 ounces soft or firm tofu, cut into 1/2 inch dice
• 1 medium carrot, peeled and shredded (about 1/2 cup)
• 1 1/2 tablespoons fresh cilantro, chopped
1. In a large saucepan, bring broth and soy sauce to a boil. Reduce heat; add bok choy, mushrooms, ginger, garlic and chili. Simmer for 5 minutes, until bok choy is tender yet still crisp and mushrooms are softened.
2. Add tomatoes, green onions, tofu and carrot. Heat through for 1 minute. Stir in cilantro just before serving.