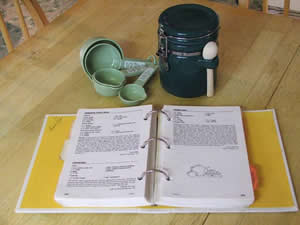 If you are dieting you know that sometimes it can get boring. Eating healthy is always wise whether you are trying to lose weight or not. The following are some diet recipes that are delicious, easy to make and easy on the calories.
Diet recipes for Almond Chicken Salad with Asparagus
Ingredients
* 2 cups asparagus tips, diagonally cut
* 1/4 cup low-calorie mayonnaise
* 1/4 cup plain, non-fat yogurt
* 1 teaspoon curry powder
* 1 teaspoon fresh lemon juice
* 1/4 teaspoon salt
* 1/8 teaspoon fresh ground pepper
* 2 cups cooked skinless, boneless chicken breast, chopped
* 1/2 cup red bell pepper, seeded and chopped
* 1/4 cup fresh cilantro, chopped
* 2 tablespoons sliced almonds, toasted
* Lettuce leaves
Instructions
1. Steam asparagus for 2 minutes or until crisp-tender.
2. In a medium bowl, whisk together the mayonnaise, yogurt, curry, lemon juice and salt.
3. Add asparagus, chicken, bell pepper, cilantro and almonds and toss to coat.
4. Serve on fresh lettuce leaves.
Diet recipes for Apple Veggie Salad
Ingredients
* 1 1/2 cups coarsely chopped broccoli florets
* 1/2 cup grated carrots
* 1/2 cup coarsely chopped cauliflower
* 1/2 cup cored and diced, not peeled, apple
* 1/4 cup sliced green onion
* 1/4 cup diced celery
* 1/2 cup yogurt, nonfat vanilla
* 1/4 cup chopped peanuts, unsalted, dry-roasted
Instructions
1. Mix all ingredients together in serving bowl. Cover and refrigerate for 2 hours or longer to allow flavors to blend. Serve cold.