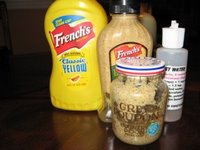 Have you been looking for the perfect thing to spread on your sandwich that isn't full of unwanted fat and calories? One of the perfect solutions is to think about spreading a little golden sunshine – some mustard, that is.
Mustard and weight loss go hand in hand because mustard contains so few calories that one could burn them up by clicking their heels three times.
Some good tips for mustard and weight loss:
Don't stick to the plain old jars of mustard. Try out the hot mustards, the honey mustards and the spicy brown mustards for a change of pace.
Or try this yummy recipe to incorporate mustard and weight loss:
Green Beans with Mustard, Shallots and Bacon
1 pound fresh green beans, trimmed (or one 16-ounce package frozen green beans)
2 slices lean bacon
1/4 cup shallots, sliced (or, alternatively, 1/4 cup sliced green onions)
2 teaspoons brown or grainy mustard
salt and pepper, to taste
Directions:
1. In a large saucepan, heat 1/2 cup water to boiling and add green beans. Cover and cook for 10-15 minutes or until beans are crisp-tender. Drain into a colander then rinse beans under cold water and set aside (if using frozen beans, cook according to package directions.)
2. In a medium skillet, cook bacon until crisp. Drain bacon on paper towels then crumble pieces and set aside.
3. Add shallots to bacon drippings then raise heat to medium-high and cook until tender. Turn heat to low then stir in the mustard, salt and pepper. Add green beans and toss until evenly coated.
4. Serve in a platter sprinkled with crumbled bacon.