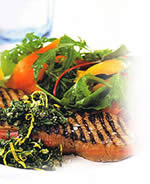 Recent studies have indicated that consuming too much protein may contribute to degenerative diseases, but not having enough protein in your diet leads to many other concerns. Low energy, fatigue, poor muscle tone, and muscle weakness are a few of the signs of protein deficiency. If you exercise, but are not maintaining a healthy protein level, your body will burn muscle instead of body fat.
Protein is fuel for our bodies; the amino acids of protein help us burn fat, provide energy, protein metabolizes into skeletal muscle tissue, and is utilized in cell and tissue growth and regeneration.
Active women need a minimum of 45 grams of protein in their daily diet, and active men need at least 55 grams. Children (2-12 years) need about 2 grams
The foods that contain and provide us with the healthiest amounts of protein are as follows.
Meat; beef, chicken, turkey, and lean pork
Fish: tuna, salmon, etc.
Eggs
Dairy products: milk yogurt, and cheese
Grains and cereals: rice, wheat, rye, oats, and barley
Seeds: linseed, sunflower, pumpkin, and sesame
Nuts: peanuts, hazel, walnuts, pine kernels, almonds, cashews, hickory
Soy products: tofu, soy milk
Beans: green, kidney