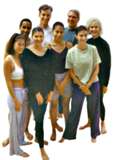 It is difficult to know exactly what type of vitamin supplement to buy. Not all vitamins are created equal, and not every person's body needs the same amount of each vitamin.
All of us need the proper amounts of vitamins, minerals, and other nutrients such as proteins and carbohydrates to meet the basic needs of our bodies and minds. Too little or too much and we can get seriously ill, and our organs and bodily systems don't function as well they should, which means that we are not in optimum health.
There are factors about your lifestyle, gender, age, and your general health concerns that need to be taken into consideration to determine which vitamins and minerals will be of the best benefit to you.
The answers you provide to these questions will assist you in your search for the nutrients you need.
Are you male or female?
How old are you?
Do you suffer from any serious illness, such as cancer or diabetes?
Are you pregnant or have you given birth recently?
Are you active, do you exercise regularly?
Does your lifestyle include any unhealthy habits like consuming large amounts of alcohol, tobacco, or drugs?