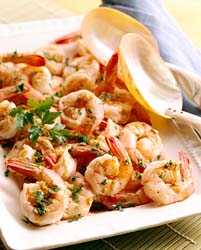 If you are starting or have been on the South Beach Diet for a while, but feel limited by the food choices, you can put some variety into your diet with the following South Beach Diet recipes.
Chopped Salad With Tuna – South Beach Diet Recipe (Phase 1)
2 Tablespoons white-wine vinegar
salt and pepper
1/4 cup of olive oil
1 head romaine lettuce (about 1 pound), chopped into one inch pieces
1 can (15.5 oz.) chickpeas, drained and rinsed
1 can (6 oz.) tuna in oil (I prefer mine in water), drained and flaked
1/2 cup black olives (about 20), such as Kalamata, Gaeta, or Nicoise, pitted and slivered
1/2 red onion, cut into 1/4 inch pieces; 2 cups fresh curly parsley, coarsely chopped
1.) Place vinegar in a large salad bowl. Add 1/4 teaspoon salt and 1/8 teaspoon pepper. Slowly add the oil in a steady stream, whisking to emulsify.
2.) Add the remaining ingredients to the bowl, and toss well to combine
Shrimp Scampi – South Beach Diet Recipe (Phase 2)
Ingredients:
1 pound cleaned and deveined shrimp
2 Tablespoons I Can't Believe it's Not Butter
2 Tablespoons olive oil
4 large cloves garlic
Juice of 1/2 lemon
1/2 cup cooking dry white wine
Pinch of dried hot pepper flakes
Salt and pepper to taste
Heat the I Can't Believe it's Not Butter and oil in a skillet over med-hot heat till foam subsides. Add the garlic, parsley, lemon juice, cooking wine, pepper flakes, salt and pepper. Bring to a boil, lower heat, and simmer for 3 minutes. Add shrimp and cook, stirring frequently, for 5-6 minutes till shrimp are pink. Remove from heat. Place on serving plate and pour sauce over shrimp from the skillet. Serve immediately.