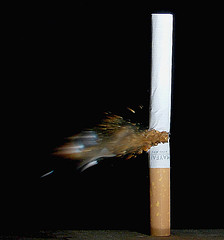 Heart disease is one of the talked about health-related topics today. It is apparent that a lot of people are becoming more and more health conscious, but still there are those who aren't.
There are several types of heart disease, but the major ones are the atherosclerosis, coronary, rheumatic, congenital, myocarditis, angina, and arrhythmia heart disease. Although heart disease can be deadly, it can also be preventable. The most basic and simple ways to prevention is to exercise regularly, eat heart-healthy diet, maintain healthy weight, avoid smoking, and have regular health screenings. It is never too late to change lifestyles and practice healthy habits.
Heart disease can be caused by many factors and smoking is one of them. Smoking and using any tobacco products are never safe. No amount of tobacco is ever considered safe. Cigarette smoking and use of tobacco products are the most preventable causes of deaths around the globe.
Heart disease that is caused by smoking is coronary heart disease. Many studies show that this that is caused by smoking. Cigarette and tobacco products users have a higher risk of developing heart disease than non smokers. Smokers who have a heart attack are more likely to die within an hour of the heart attack
Tobacco products contain thousands of chemicals and nicotine which is very addictive.
Smoking increases blood pressure, decreases exercise tolerance, and increases the tendency for blood clot. When the blood clots build up and block the arteries, heart attack will occur. Therefore, it is evidenced that smoking contributes to heart disease.
Studies also have shown that the risk of developing smoking related heart disease, after five years of giving up this bad habit, is the same as for someone who never smoked!
Stop smoking…your heart will love you for it.