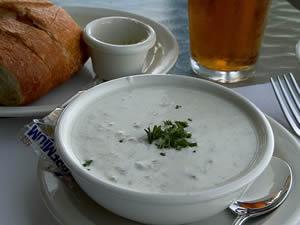 More and more people are joining the growing trend of eating reduced fat meals to fight coronary artery disease. You see when fat deposits line the wall of arteries; it can lead to some serious complications, one of which is coronary artery disease.
Coronary artery disease can be debilitating and lead to heart attack or the need for intervention such as having stents placed or having bypass surgery.
By eating heart healthy one may lower the risk of coronary artery disease.
Check out this tasty, low in fat recipe.
ROCKPORT FISH CHOWDER
2 Tbsp olive oil
3/4 cup coarsely chopped onion
1/2 cup coarsely chopped celery
1 cup sliced carrots
2 cups potatoes, raw, peeled and cubed
1/4 tsp thyme
1/2 tsp paprika
2 cups bottled clam juice
8 whole peppercorns
1 bay leaf
1 lb fresh or frozen (thawed) cod or haddock fillets, cut into 3/4-inch cubes
1/4 cup flour
3 cups low-fat (1%) milk
1 Tbsp fresh parsley, chopped
1. Heat oil in a large saucepan. Add onion and celery and sauté about 3 minutes.
2. Add carrots, potatoes, thyme, paprika, and clam broth. Put peppercorns and bay leaves in cheese cloth. Add to pot. Bring to a boil, reduce heat, and simmer 15 minutes.
3. Add fish and simmer an additional 15 minutes, or until fish flakes easily and is opaque.
4. Remove fish and vegetables; break fish into chunks. Bring broth to a boil and continue boiling until volume is reduced to 1 cup. Remove bay leaves and peppercorns.
5. Shake flour and 1/2 cup low-fat (1%) milk in a container with a tight-fitting lid until smooth. Add to broth in saucepan with remaining milk. Cook over medium heat, stirring constantly, until mixture boils and is thickened.
6. Return vegetables and fish chunks to stock and heat thoroughly. Serve hot, sprinkled with chopped parsley.
Serving Size: 1 cup and contains the following:
Calories: 186
Total fat: 6 g
Saturated fat: 1 g
Cholesterol: 34 mg
Sodium: 302 mg