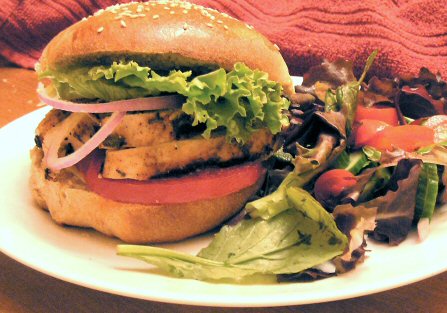 The battle of the bulge goes on daily and if you are searching for foods that are on the weight loss food list and the recipes to make them delightfully delicious…you are in the right place.
Below you will find weight loss food recipes that will delight anyone:
Pork with Hot Salsa, Green Beans and Carrots
Ingredients:
6 oz lean, boneless pork chop
2 tbsp salsa
1 cup frozen green beans
1/2 cup frozen carrots
Cooking Method:
1. Broil the pork for 3-4 minutes on each side.
2. Top with the salsa and continue cooking for 2-3 minutes.
3. Microwave vegetables and serve with the pork.
Chicken Burger with Salad
Ingredients:
4 oz chicken breast
1 whole wheat hamburger bun
1 sliced tomato
1 small red onion sliced
2-3 leaves lettuce
1 tbsp ketchup
Cooking Method:
1. Broil chicken on both sides for 4-5 minutes each side.
2. Split the bun, lightly toast and top with cooked chicken, ketchup and salad.
Quick Pizza and Salad
Ingredients:
1 whole wheat pizza base
1/4 cup Marinara or pizza sauce
Chopped vegetables like peppers/onion/mushrooms
1 oz shredded low-fat cheese
Pre-washed lettuce, cherry tomatoes, cucumber and onion
1 tbsp low-fat dressing