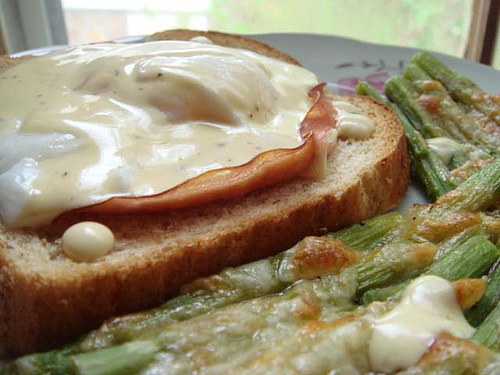 If you're looking to add more fiber to your diet, the recipe below is a yummy way to start your day.
Fiber moves quickly and relatively easily through your digestive tract and helps it function properly. A high fiber diet may also help reduce the risk of heart disease and diabetes and aids in weight loss.
Poached Eggs and Asparagus
INGREDIENTS
* 4 eggs
* 1 cube chicken bouillon (optional)
* 1 pound fresh asparagus, trimmed
* 4 slices whole wheat bread
* 4 slices Cheddar cheese
* 1 tablespoon butter
* salt and pepper to taste
DIRECTIONS
1. Fill a saucepan half way full of water. Bring to a boil and stir in the bouillon cube until dissolved. Crack one egg into a measuring cup or large spoon and gently slip it into the boiling water. Repeat with remaining eggs. Simmer for about 5 minutes over medium heat. Remove with a slotted spoon and keep warm
2. Meanwhile, Place the asparagus into a saucepan and fill with enough water to cover. Bring to a boil, and cook until asparagus is tender, about 4 minutes. Drain.
3. Toast the bread to your desired darkness. Spread butter onto each piece of toast. Top with a slice of cheese, then a poached egg and finally, asparagus. Season with salt and pepper and serve immediately.