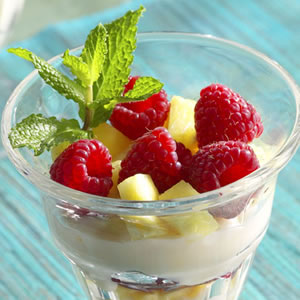 When it comes preventing heart disease through diet, there's quite a bit you can do with heart healthy recipes.
The following are some delicious heart healthy recipes to help you on your way to a healthier lifestyle!
Pineapple-Raspberry Parfaits
2 8-ounce containers (2 cups) nonfat peach yogurt
1/2 pint fresh raspberries (about 1 1/4 cups)
1 1/2 cups fresh, frozen or canned pineapple chunks
Divide and layer yogurt, raspberries and pineapple into 4 glasses.
Riesling Baked Pears
4 ripe pears, preferably Bosc, with stems, washed and dried
2 cups Riesling or other fruity white wine
1/4 cup honey
4 cinnamon sticks
4 bay leaves
4 strips orange zest (see Tip)
1. Preheat oven to 400°F.
2. Cut a thin slice off the bottom of each pear, so they will stand upright. Arrange the pears in a 9- to 10-inch pie pan or similar baking dish. Whisk wine and honey in a medium bowl until well blended; pour over the pears. Add cinnamon sticks, bay leaves and orange zest to the wine mixture around the pears.
3. Roast the pears, basting every 15 minutes, until they are wrinkled and tender, 45 minutes to 1 hour, depending on the type of pear used.
4. Use a slotted spoon to transfer the pears to shallow dessert bowls. Pour the wine mixture into a small saucepan; bring to a boil. Boil until slightly thickened, about 6 minutes. Drizzle over the pears and garnish with the cinnamon sticks, bay leaves and orange zest. Serve warm, at room temperature or chilled.