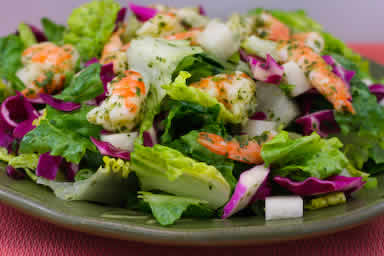 Just because you're dieting it doesn't have to mean that all your meals will be cottage cheese and celery. There are some really scrumptious weight loss recipes out there to help keep meals interesting.
Search the internet if you like and you will come up with a wealth of weight loss recipes. But in the meantime below is just one example of one of many yummy weight loss recipes.
Citrus Shrimp Salad
(makes 4 servings)
Calories 271 per serving
Ingredients:
1 clove garlic
3 tablespoons fresh-squeezed lemon juice
1 tablespoon low-sodium soy sauce
1/8 teaspooon red pepper flakes
1 teaspoon fresh ground black pepper
1 pound medium peeled and deveined shrimp
1 cup watercress, chopped
1 medium head cabbage, shredded
1 carrot, peeled and grated
1/3 cup fresh-squeezed lime juice
2 tablespoons honey
Nonfat cooking spray
2 tablespoons fresh basil, chopped (optional)
2 tablespoons roasted peanuts, chopped (optional)
Directions:
1. In a food processor, add the garlic, lemon juice, soy sauce, red pepper flakes and blend until smooth.
2. Pour lemon juice mixture into a medium sized bowl then add shrimp. Toss to coat evenly, cover with plastic wrap then marinate in refrigerator for 30 minutes.
3. In a large serving bowl, add the watercress, cabbage, and carrot and mix until combined.
4. In a small bowl, whisk together the lime juice and honey then pour over salad mix. Toss until well-coated.
5. Spray a small skillet with nonfat cooking spray. Pour shrimp with the marinade into the pan and cook over medium-high heat for about 3 minutes or until shrimp is completely pink in the center.
6. Place cooked shrimp in center of salad and garnish with optional basil and peanuts.